With Facebook in the press recently following whistleblower Frances Haugen's accusation that the company is failing to protect young users from harmful content, World Mental Health Day 2021 fell at a poignant time.
As to be expected, social media platforms recognised World Mental Health Day by introducing tools and features designed to support vulnerable users. We've rounded these up below, along with our thoughts on these new activations.
Pinterest
Visual discovery platform, Pinterest, revealed Pinterest Havens.
In part, Pinterest Havens is a Pinterest board — Invest in rest — curated by Pinterest Creators and, interestingly, Pinterest employees from Pinside Out, Pinterest's own mental health ERG.
What a Spotify playlist is for your ears, a Pinterest board is for your eyes — a collection of individually selected visuals or links, grouped by theme.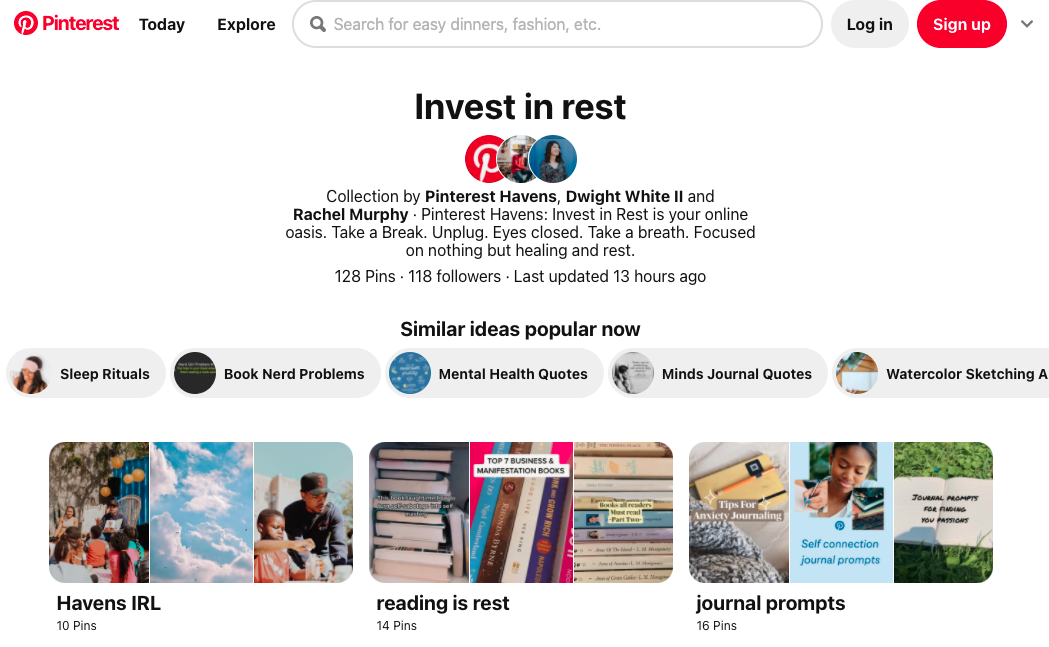 Pinterest Havens is also a physical activation located within Boxville, Chicago:
"Located within Boxville on Chicago's South Side, "Havens: Invest in Rest", is a site-specific installation curated by local artist Dwight White dedicated to bringing the anti-burnout oasis to life through real-life Pins and community programming."
We feel Pinterest Havens is a positive contribution by Pinterest to their own community. From an employer-brand perspective, having their own employees contribute wellbeing advice certainly shows Pinterest to be an employer who cares for its people.
The jury's still out on the degree to which Pinterest's users will find the initiative helpful. At the time of writing, the Invest in Rest board has just 118 followers, which is a drop in the ocean compared to the volumes of followers amassed by wellbeing specialists on Pinterest like W for Wellbeing (23.7k) and Milestone Wellness (140.4K).
Snapchat
Opening up conversation around mental health, Snapchat have launched Club Unity, which they describe as:
A group of friends who are getting real about the stress and pressure of daily life and talking about ways to help each other get through it.
Members of the club include model Halima Aden, musicians and actresses Chloe x Halle, actor Ricky Thompson, Atlanta Hawks basketball player Trae Young, and dancer Maddie Ziegler, coached by Snap Original star Yusuf Omar.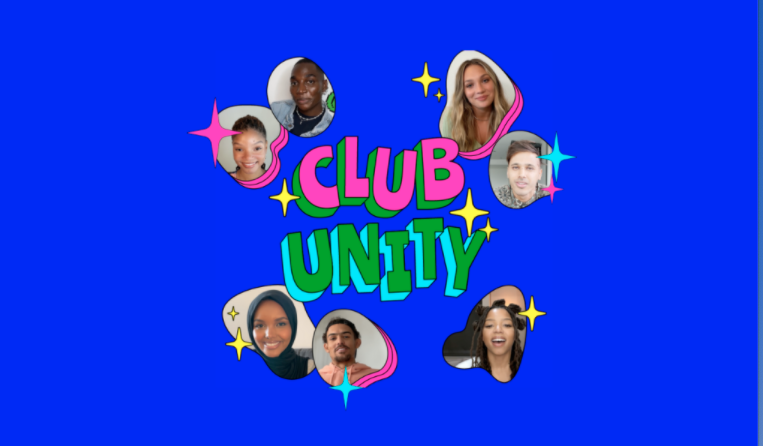 While the above may have lead the press coverage for Snapchat, it's their supporting activations that we find most interesting.
In March 2020 Snapchat launched their Here For You hub. It's primarily a search tool that connects users with resources from expert partners on topics like mental health, anxiety, depression, stress, suicidal thoughts, grief and bullying. Last weekend, Snapchat added new resources, including active listening tips and daily affirmations.
Alongside its search features, Here For You now includes more subtle tools like lenses, stickers and Bitmojis that Snapchat users can use to easily express themselves or to reach out to friends in need.
We think this is an excellent example of a platform providing its users with mental health resources that align perfectly with the way their users behave on, their platform.
Clubhouse
Social audio app Clubhouse hosted creators from around the globe in their 24-hour marathon mental health room, hosted by the Mental Health Matters Club.
To support this conversation, which was clearly labelled as a place for conversation and not 1x1 mental health counselling, they provided users with a collection of resources to turn to for further assistance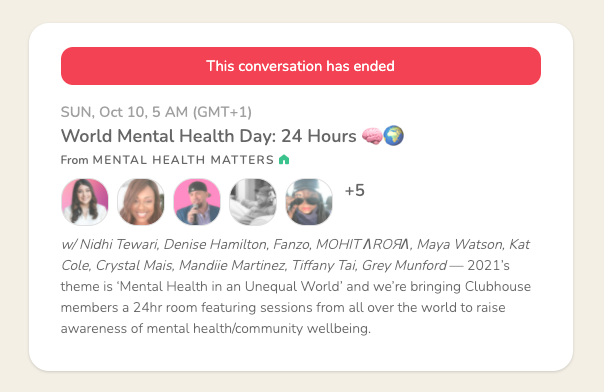 As one of the newest social media platforms out there, we're pleased to see Clubhouse setting out its shop by recognising World Mental Health Day.
Facebook
The social media giant Facebook have added new assistance tools, as well as dedicated programming on Watch (the video area of Facebook).
There are new resources in Facebook's Emotional Health hub, developed for BIPOC Mental Health Month to help provide equitable access to mental health support.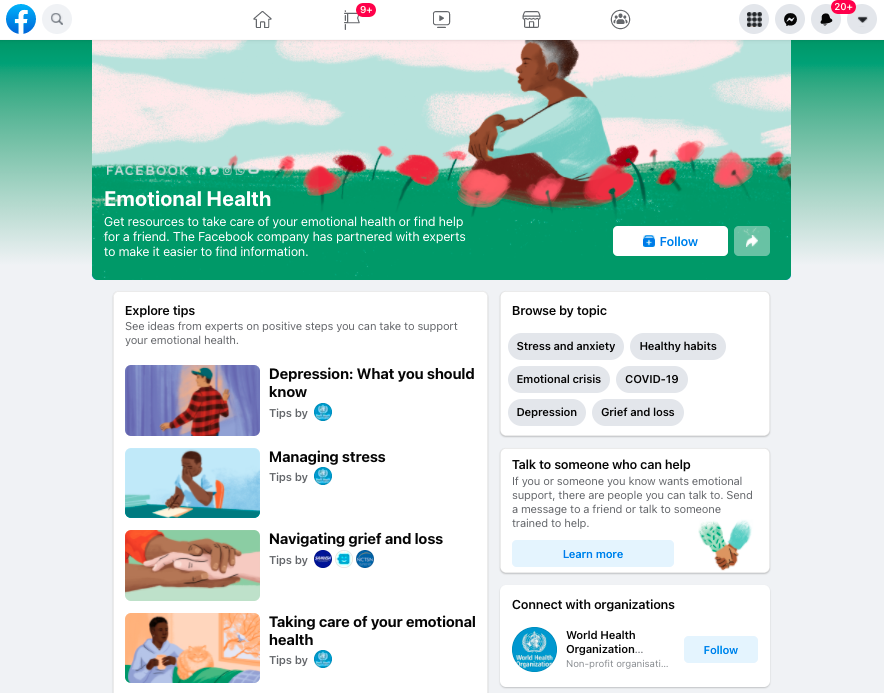 There are a plethora of other resources listed in their World Mental Health Day press release, but many of these read as initiatives lead by specialist organisations, with Facebook simply providing the kit for the initiatives to run on. These include wellbeing chatbots on WhatsApp, member-created Facebook groups and articles by independent writers.
There's no doubt these resources are all useful, but whereas Snapchat are taking action to help connect their users with mental health resources, Facebook are more passive, simply amplifying efforts instigated by third parties or providing tools to people who seek them out.
We'd love to see Facebook follow Snapchat's lead, and to take more of a pro-active stance on protecting and supporting its users.
Find out more about our Social thinking
You can subscribe to this blog - there's a pop-up below. Or, to find out more about some of our social activation work, click here.