My name is George Wozniak, and I had the privilege of joining the team for 3 weeks.
As I arrived on Monday morning, Charlie instantly greeted me. I was given a short tour and everyone introduced themselves and told me a bit about their role. Not long after the tour, we came up with the great idea of doing an Instagram Story social takeover to keep track of my work experience journey, uploading it on the Tonic social accounts daily. After lunch, I was shown how to use Adobe After Effects by Joel, who was editing a film clip for a client. I was able to observe and ask questions, gaining an understanding around editing, inputting images and adding tracks. Towards the end of the day I joined John, Greg and Neil in a meeting with a prospective photographer. This was a great experience as I was able to hear about the practical logistics for shoots, and gave me an understanding around what Tonic are looking for from a photographer.
On Tuesday, I was set a task by Tony, which involved coming up with a plan for a client about how they can challenge university students to be more innovative and creative, but in an enjoyable, enthusiastic way. It took some research, but was fun to see previous events, which had taken place to achieve a similar outcome. I watched a variety of videos and got to understand how companies get their ideas across to gain results, while targeting their desired audience. In the afternoon, Billie gave me a task to plot some dates using Microsoft Excel, which would be sent to the client to show when current projects will be going live. Not only did this test my Excel skills, but also gave me an understanding of what the client wanted, and what format it needed to be in.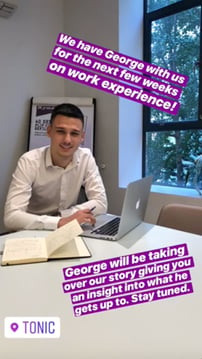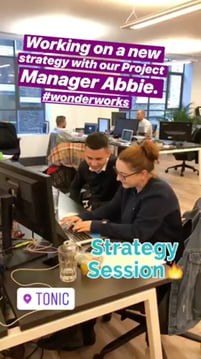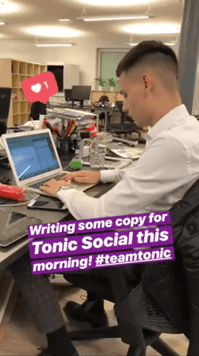 When Wednesday came around, Charlie gave me a brief on a project he was working on for a client. He told me what he had to do in order for the client to say it was ready to launch. Some of the things he told me about were: conducting surveys for market research, creating presentations and showing results from surveys, and regular client calls to inform them where things were up to. This helped me to realise how much effort he had to put in and the work he does for them clearly requires a lot of time and enthusiasm. After the brief, he invited me to a client call, where I was able to listen to the interaction and gain an understanding of the project and its status. This gave me a good grasp of the format of client calls and the professionalism needed when communicating externally.
It was my second week at the office, and it started off with some proofreading for a client. This was aimed to ensure there was no spelling or grammar errors, the right quotes were matched with the right faces, and images were positioned correctly. It shows how every little detail matters. The smallest mistake can cause issues and reflect badly on the business. My second task was to do some research and find the most convenient and cost effective products for a vegan tea party we were hosting for a colleague's leaving celebrations. I had to ensure everything we were going to source was vegan and aimed to find it in a local shop, preferably in the surrounding area.
On the Wednesday, I was given the task by Charlie to create a social media post for Facebook and Twitter to showcase Kylie's departure. I had to make the post relevant to the social media platform I would be using. This challenged my knowledge of the social sites, as I had to think about which audience use which type of site, then cater that post to them.
During my last week at Tonic, I was helping Billie with a small but significant job. Some members of the team are flying to America to film a shoot for a client project, which requires transfers between airports, hotels, and states. My job was to conduct research and find a reliable and efficient taxi service, which operated in Washington, DC. I had to call to find quotes and information about different options available. This taught me that even the smallest jobs play a part in the bigger picture.
Over the entire period I was here, I enjoyed every minute of it and I'm very grateful for all of the time and experience the Tonic team shared with me. This has most definitely had an influence on the route I want to take in the future. Thanks to every member of the Tonic Team! #TeamTonic #WonderWorks