Is your content game stronger than your community effort? Is that the way it should be? Are you missing a trick? Does better attraction & retention require you to be more engaged?
When we think of social media marketing, the content we make and share is often the first part of it that springs to mind – what to post, where to post it, and how often. Your content is important, of course it is, it showcases your employer brand, addresses candidate questions or needs, and helps you to attract talent. But social media platforms, like LinkedIn, were not built for brands, they were built for communities. The way these platforms work centres around how users behave and how they interact with other accounts on the platform.
If we focus solely on the content we share on social media, we may find we struggle to reach our audience, with our posts only seen by a fraction of followers. This can result in fewer shares, and less reach amongst new audiences, getting in the way of our social media content reaching its full potential.
We may also find our content fails to show up in hashtag search results or in 'you may also be interested in…' content recommendations. And this isn't necessarily because the content isn't compelling, surprisingly it may be due to a lack of interaction from your online community.

To unpack this, let's begin by looking at the LinkedIn algorithm – the formula used by LinkedIn to determine which posts to show in candidates' personal news feeds, and what order to show them in.
LinkedIn's engineering team are generously transparent about the way the algorithm works. They say the key objective for the algorithm is to help "members actively participate in professional conversations". When we know LinkedIn's own objective is to drive conversation amongst its users, we can gear up our social media efforts to complement and support this.
When a user logs in to LinkedIn, the LinkedIn algorithm predicts what type of content will be most relevant to them.

"Examples include updates from your network, job recommendations, and sponsored updates."

The algorithm then ranks shortlisted content from most- to least-likely to stimulate conversation from the user. As LinkedIn sees 95% of member conversations sparked by updates from your network/pages you follow (rather than job posts, hashtag activity, articles, or news), it's common for 80% of a user's news feed to be made up of timeline posts.
So what does this mean for us as employer brand marketers?
Essentially, we need to ensure content shared to LinkedIn delivers engagement from our audience, with comments being particularly valuable. When we know this, we can start to shape our content in a way that encourages interaction.
Netflix is a great example of a company that sets out to drive comments by using strategies like making provocative statements and asking questions: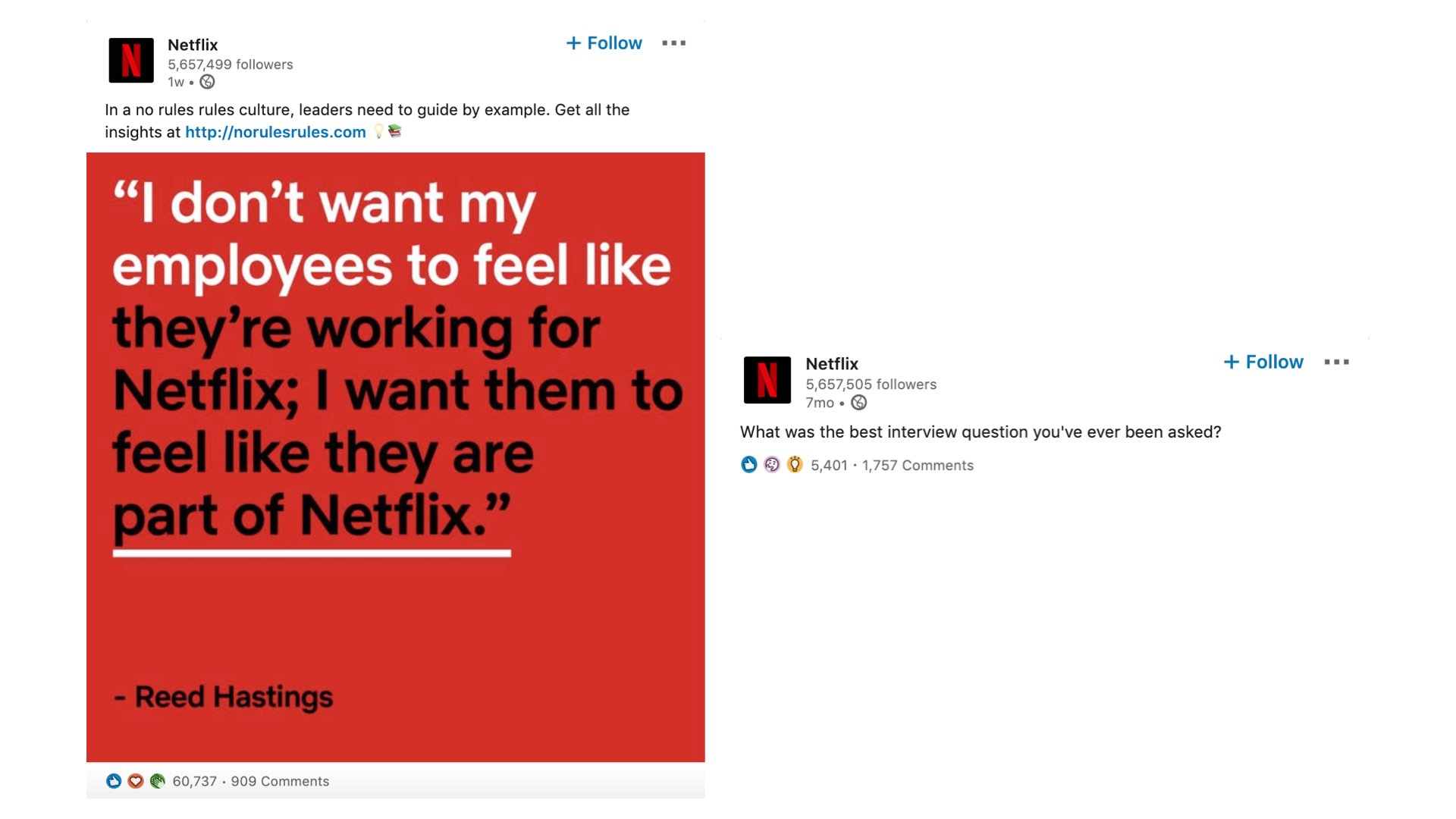 But beyond making conversation-sparking content, it's valuable to continue the discussion. By demonstrating that you're listening and interested in what your candidates have to say, you will encourage them to share more comments with you in the future. And we know more comments will help your content rank more favourably in the news feed.
By introducing community management in this way, your social media marketing goes beyond content marketing and truly becomes social.
You can reply to incoming comments on your company page as the company, or, like Google, you can encourage your employees to join in the chat as representatives of your business.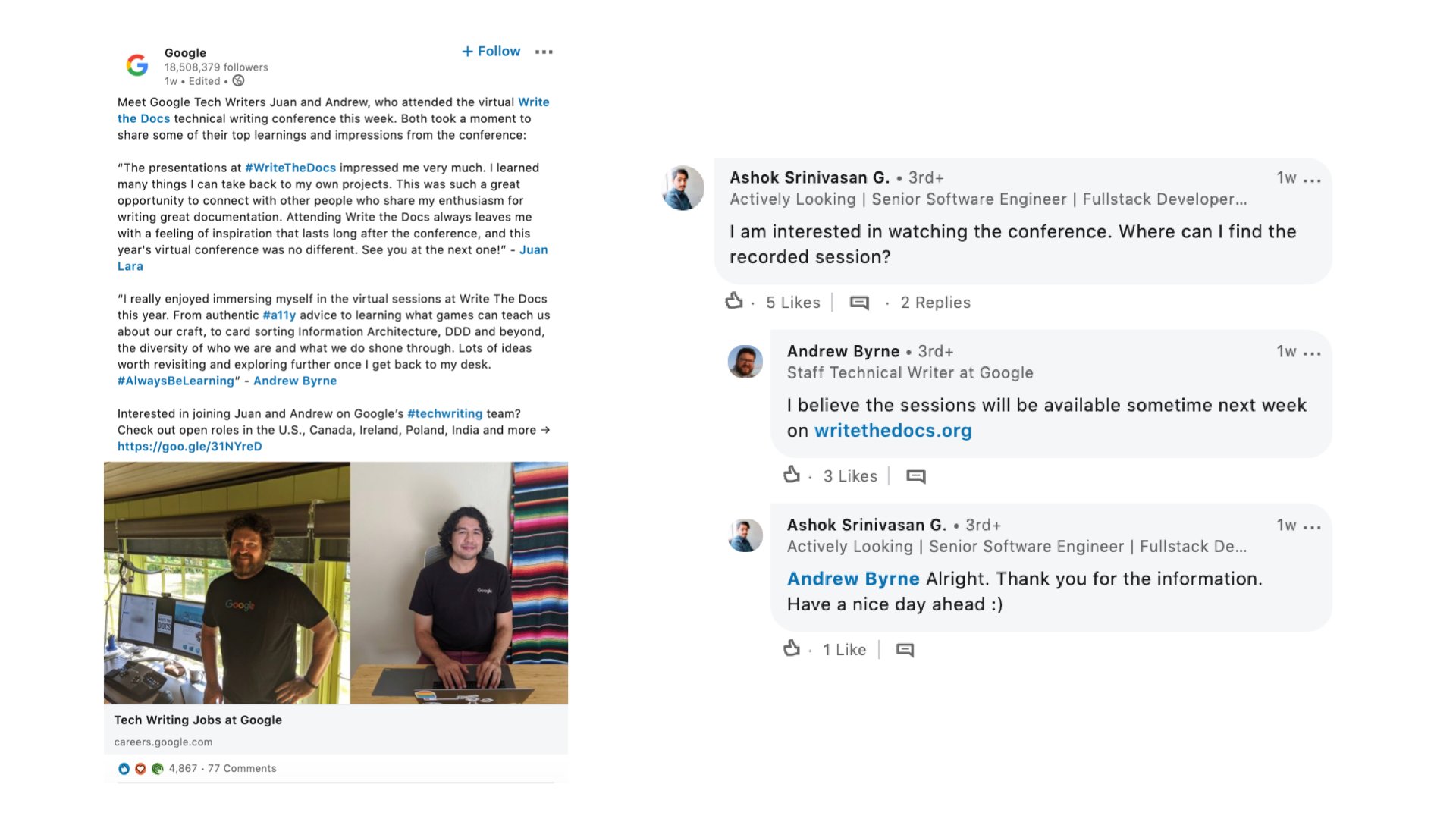 To be truly best in class, go beyond content completely and use your company page to join conversations happening elsewhere on LinkedIn.
Check the Mentions section of your Company Page Notifications and, where appropriate, leave a comment on posts that reference your company.
You can also use the Community Hashtags section of your page to pick out topics relevant to your employer brand. Browse these hashtags regularly and contribute valuable insights, opinions or reflections in the comments section of particularly relevant posts (just be careful to avoid coming across as spam with short, generic comments like "Great!" or "Brilliant initiative!").
By demonstrating that you are an active community member, other LinkedIn users will be encouraged to browse your content and contribute comments on your company page posts.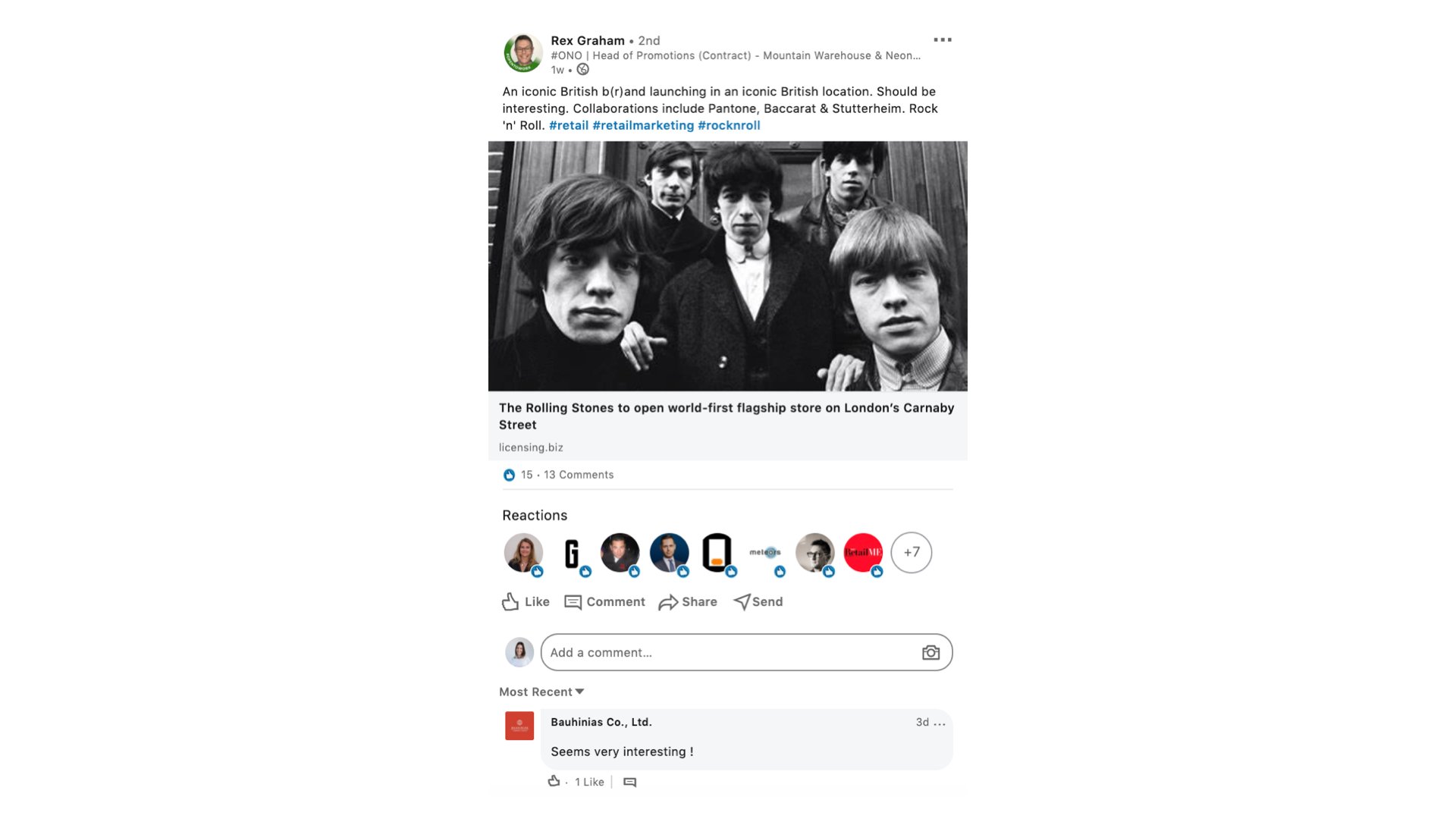 To overcome flagging reach on LinkedIn, review your community management strategy with as much scrutiny as your content strategy. And if this is new territory for you, by all means leave a comment here or reach out to us here and we'll be happy to advise you on the best place to start, or how our community management or employee advocacy services could take your LinkedIn presence to the next level.