And, what can we learn from their way of thinking...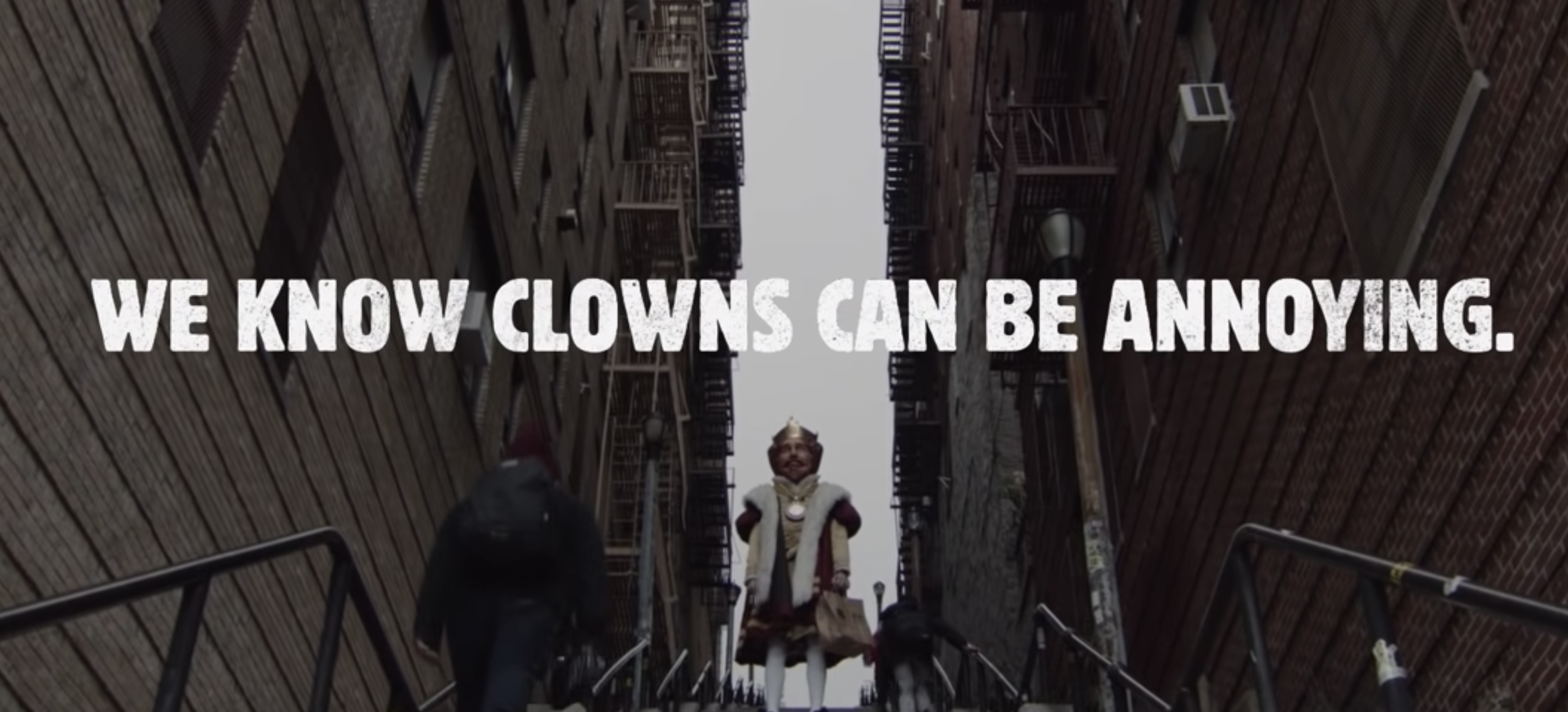 Here's the context: Burger King had a stellar marketing 2019. Peerless advertising that stood out for the right reasons; funny, sassy and clever. Exactly on point.
Here's a quick look at what they did:
1. They responded to iconic cultural moments
Perhaps the stand-out film of 2019 was 'The Joker'. Joaquin Phoenix plays Arthur Fleck as he transforms into Batman's arch-enemy. It's received 11 Oscar nominations. It's good. See it if you haven't yet. #NoSpoilers
The film has a moment, set on some steps in Brooklyn, where the transformation completes. The steps have become a tourist hotspot. Which is not great for the residents. Cue BK with free Whoppers for residents to commiserate the influx of clowns. Because clowns can be annoying, right? Top work.
2. They're were in touch with public sentiment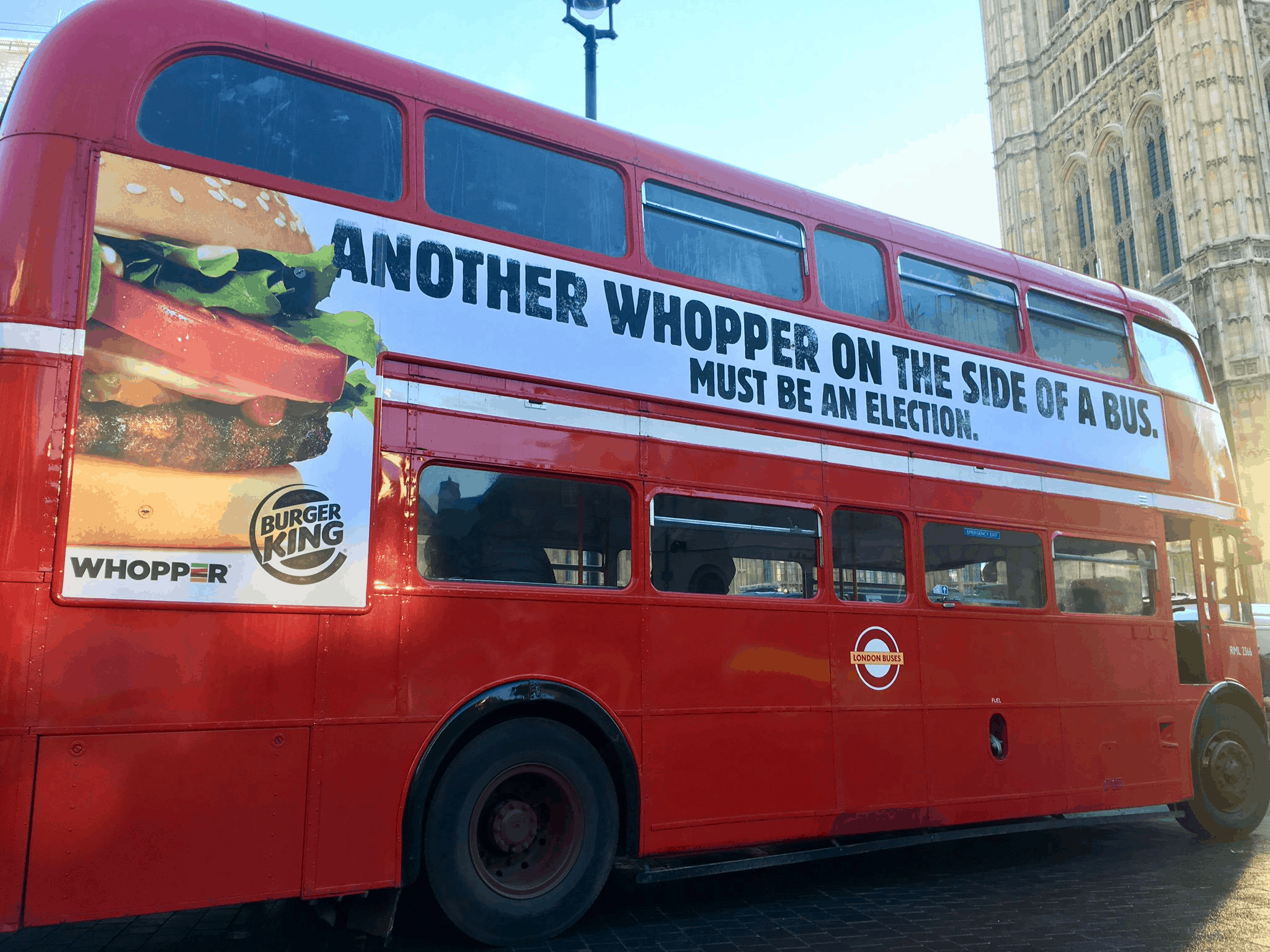 There's being on the zeitgeist, and there's being on the inside of a joke. In the 2016 Brexit referendum in the UK, the Leave campaign's slogan, painted on the side of a bus, has been widely ridiculed as nonsense. In 2019 a general election was called to settle the matter once and for all. In step BK with a Whopper on the side of a bus. Funny, in context and prescient.
3. They kept up with aligned trends in consumer behaviour
Too much hassle to queue for a burger? Too busy to leave your desk/sofa? Consumer behaviour is in the early stages of shifting towards delivery over collection of fast food.
Partnering with Uber Eats/Deliveroo (others too), Burger King promoted their involvement with a King on a scooter.
4. They played the long game
We don't know if this is true, but it could be, and if it is, then it's a piece of comparison genius.
The Whopper is bigger than the Big Mac. To show this BK put a 'Big' Mac behind each Whopper used in their comms. All the way through 2019. And then thanked McDonald's for having their back. Cheeky.
5. Their recruitment work felt like their consumer work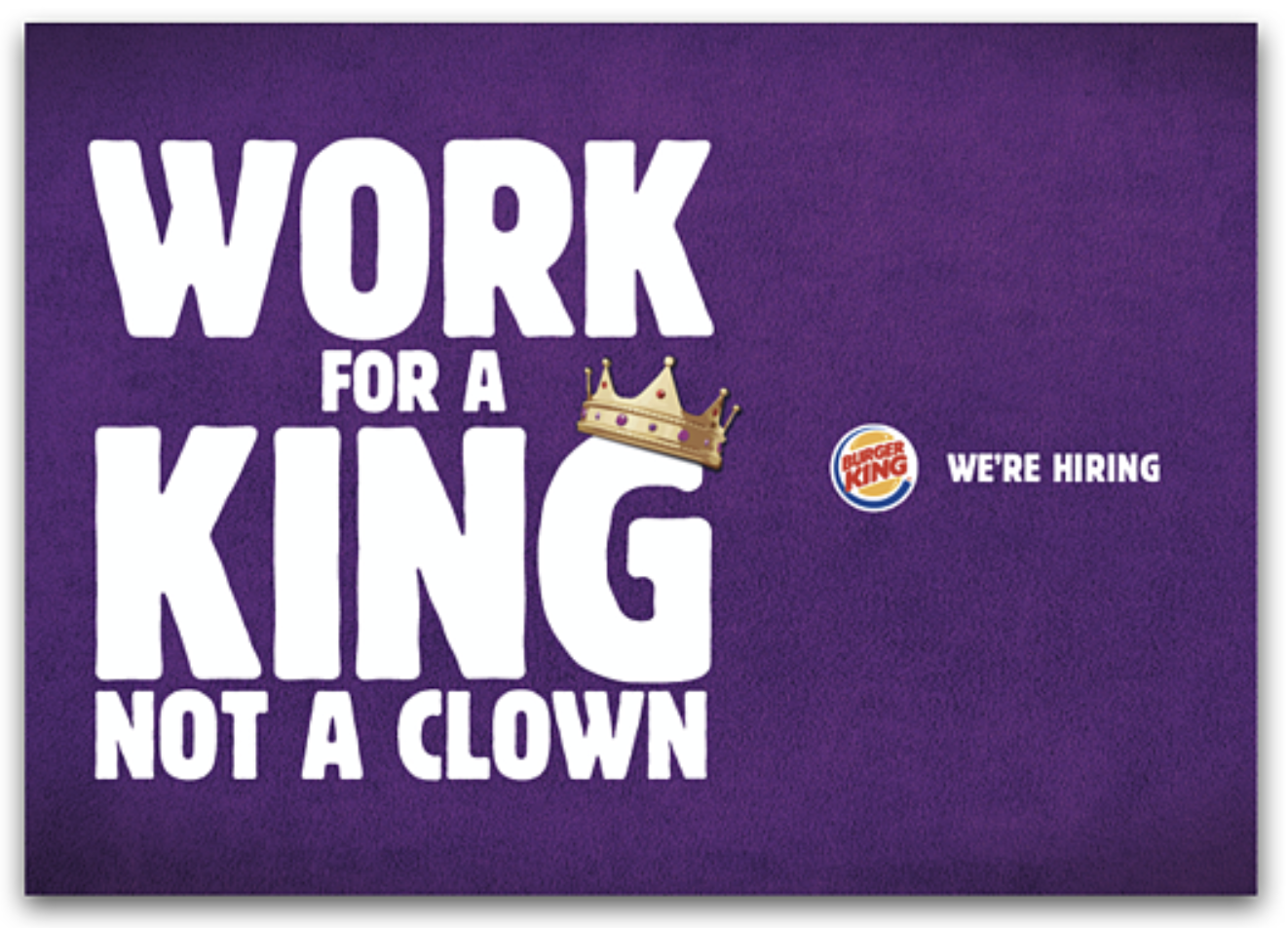 This is our work, so we're not going to brag too much. Suffice to say that the employer brand work, and the recruitment marketing, picks up the same sentiment as the consumer work. Cheeky content with a knowing wink ;)
So, what can employer brand pro's learn from this?
For me, there are three main reasons why this work, works. Firstly, the brand has a clear position, one of humour, being on your side, a sense of togetherness. Second, there's clearly a bravery in the business - wherever that sits - to deliver clear messages without compromise. They have a clear point of view, and stick to it. Lastly, they are aware of the outside world and respond quickly. There's clearly a marketing strategy in place, but that extends to responding to each of us, day to day. So, rather than pre-planning waaaaay in advance, they allow space in their schedule to be a part of the real conversation.
The outcome? Great communications. Great social amplification and a brand that is King of the advertising world right now.
The question then, for you, is how can your brand follow these pointers to have a Whopper of an employer branding year. Answers below please!